Metabase Cockpits as a Base for BI in Strategic Management
Keywords:
Information systems requirements, Strategic management, Business Intelligence, Metabase cockpits, Management Information Systems
Abstract
The data diversity, scope and volume have increased to unprecedented levels necessitating numerous tools, techniques and technologies that enable the collection, integration, storage, systematization and analysing of existing data. The potential for creating strategic values based on data has always existed. But today, given the availability and diversity of data as well as new managerial, technical and technological capabilities for their collection, storage, processing and analysing data is a key driver of innovation, competitiveness and company productivity. Data as a resource is considered "responsible" for the revolution in management, a resource equal to "oil and gold". Today, information is a dynamic category, big data and a 'living organism' which changes by the second, is on top of the mind of every company and top management. So it is believed that the power of a company is in precision of facilitating the information flow. The starting point for creating information are data and information, as necessary contribution for knowledge creation once placed into context and relevant for the user's orientation, situational awareness, sense making and decision making.
This paper addresses the information needs of managers at the strategic level using diverse software solutions in which Business Intelligence (BI) defines approaches for collecting, storing, processing, analyzing and presenting company and business ecosystem data. A special place in this paper is for the METABASE tool which can be used in Data Science and visualization of BI concepts and managerial approaches. Metabase cockpits/dashboards are designed to present, visualize, report, and monitor a company's long-term strategy using critical success factors that influence business operations. They can track efficiency performance against a company's strategic goals. Thus facilitating and speeding up a company's decision-making process. Metabase cockpits present company data to all levels of management, but ought to be designed with the principles of adaptability and responsiveness, in order to capture the dynamic complexity of the world. Metabase cockpits also support automated draft decisions that can be used in the decision-making processes. For the needs of this paper, Metabase cockpits are presented as functional concept for the needs of the company's management, while at the same time, combined with real data, gives relevant knowledge as a tool for Data Science and BI.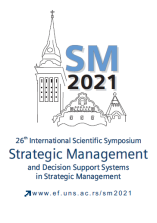 How to Cite
Metabase Cockpits as a Base for BI in Strategic Management. (2021). International Scientific Conference Strategic Management and Decision Support Systems in Strategic Management, 103-110. https://doi.org/10.46541/978-86-7233-397-8_116