Job Satisfaction and Organizational Citizenship Behaviour: the Example of Employees in the South East of Serbia
Keywords:
job satisfaction, organizational citizenship beavior, employees, satisfaction
Abstract
Organizational citizenship behaviour is the behaviour of employees that goes beyond their duties defined by the job description, and therefore, from the perspective of employers, is a highly desirable form of behaviour in an organization. However, the willingness of employees to exhibit this type of behaviour is conditioned by a number of factors that have their source in the work environment itself. Numerous empirical studies suggest that this behaviour can be driven by employee job satisfaction, fulfilment of psychological contract, perception of high levels of organizational justice and organizational support, etc. The paper starts with three hypotheses. The first and second are that the employees are satisfied with the job and exhibit organizational citizenship behaviour, that is, on a Likert scale from 1 to 5, the mean of the variables is greater than 3. This assumption was tested using the t-test. The second hypothesis is that employee satisfaction has a statistically significant effect on organizational citizenship behaviour. Correlation and simple regression analysis methods were used to test this hypothesis. The analysis is based on data obtained through primary research during 2019. The survey involved 244 employees in south-eastern Serbia. The aim of the paper is, based on the results that are obtained, to propose strategies for increasing employee satisfaction which would have a positive impact on their willingness to manifest organizational citizenship behaviour.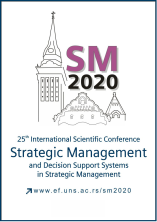 How to Cite
Đorđević, B., Ivanović-Đukić, M., Lepojević, V., & Milanović, S. (2020). Job Satisfaction and Organizational Citizenship Behaviour: the Example of Employees in the South East of Serbia. International Scientific Conference Strategic Management and Decision Support Systems in Strategic Management. https://doi.org/10.46541/978-86-7233-386-2_25 (Original work published July 10, 2020)